Welcome
Have questions? Visit our FAQ's page to find answers to common questions you may have or contact us if you have additional questions.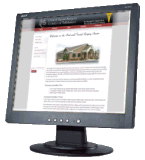 Testimonials
About Us
MoTech Systems is a web development company located in Tallahassee, FL that specializes in creative web solutions for small businesses. Most start-up companies, as well as established businesses, don't know where to start when it comes to getting a web site on the internet. We are here to make that journey a pleasant and rewarding experience by helping determine the needs of your business and developing a web site that is professional, user friendly, and compliments your business process.

A word from the owner...
When I started designing web sites back in 1997, the internet was a novelty. Today, it has become a necessity for doing business. The internet has grown exponentially over the years and is becoming the primary source of information. It is much more likely that people will use a computer to find products and services before reaching for a phonebook. The internet offers a more interactive approach to connecting with customers allowing them to find what they are looking for easily. Scott Moody